Contact me
The best way to get in touch with me is via
Twitter
Instagram
GitHub
YouTube
StackOverflow
Other social media:
Reddit
Facebook - Not very active
If you just want to email me, go ahead send an email to Iris Classon. This email is also my spam filter, so if you don't get a reply within a few days feel free to ping me via one of the channels mentioned earlier :)
About Iris
Here is a cheezy text describing me in third person- usually used for bio section when I'm speaking at conferences. Not very Swedish, but very usefull :D
" Iris Classon is an appreciated speaker, writer, blogger and Microsoft C# MVP with a tremendously passion for programming. She has had a remarkable career path that proves that nothing is impossible- as a licensed and registered clinical dietician she decided in 2011 that she wanted to learn programming and rapidly went from 0 to 100. Within her first year, she earned MCSD, MCPD and MCTS certifications and was invited to join MEET – Microsoft Extended Experts Team, in addition to landing a fulltime developer job after just six months and a position as a Technical Evangelist for the renowned international company Telerik as well as earning a Microsoft MVP award for her contribution to the dev community.
She has been featured in several newspaper articles, online articles and podcasts such as Hanselminutes, Computer Sweden and Developer Magazine. As an appreciated and frequent speaker at conferences such as TechDays, Scandinavian Developer Conference and various user groups she is known for her unique, creative and uplifting presentation style. On her spare time she does pro-bono work and is very engaged in the developer community, she also enjoys extreme sports such as barefoot running, mountain biking, weightlifting and scuba diving- and of course traveling.
Her motto is, if you think you can or can't- you are most likely right. "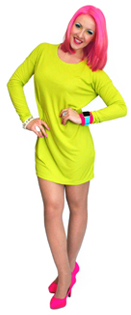 ---
Last modified on 2000-06-08